A Century of Dedication & Service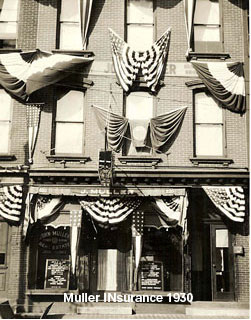 Muller Insurance enjoys a proud and rich history that dates back over a century and now carries through to a third generation of Mullers. Our story began when a 17-year-old John Muller immigrated to Hoboken from Altona, Germany in 1903. John Muller not only wanted to find the American Dream, he wanted to live it. He began to do that just three years later when he started Muller Insurance in 1906.
When he opened his insurance agency at 930 Washington Street (where we are headquartered today), he not only launched a vibrant business that would grow with Hoboken, the surrounding communities and the insurance industry itself. He also created an entity committed to public service and community involvement.
John Muller's commitment to serve and support would span almost 50 years and includes serving as a US Army Corporal in the Military Police during the First World War. Discharged in 1919, John Muller immediately returned home to Hoboken to resume his business and support his neighbors.
A staunch Democrat, Muller belonged to Hoboken's First Ward Democratic Club and ran his own local Democratic Club at Fifth and Bloomfield Streets. He was also elected Justice of the Peace for Hudson County and served as President of the Hoboken School Board. He was an active member of numerous social services organizations, including the American Legion, Fraternal Order of Eagles; the Independent Order of Odd Fellows; the Hoboken Masons Euclid Lodge; the Hoboken Elks Lodge; and the Lions Club.
John Muller never rested on his laurels. He not only handled insurance policies, he also brokered real estate, acted as a theatrical agent for Broadway shows and served as a New Jersey State Detective.
In in 1952, more than 45 years after starting Muller Insurance, John Muller passed away from prostate cancer and his son, R. John Muller, took over the family's business. At 24 with a wife, Hetty, and two young children, R. John Muller readily embraced the challenge of making Muller Insurance stronger, bigger and better than ever. He immediately began by securing a real estate license and an insurance broker's license. Soon afterwards, the Upsala College graduate went on to attend St. John's University's School of Law School and serve as President of the Hoboken Board of Realtors in 1959. Membership in social services organizations included the Euclid Lodge Masons, the Hoboken Lions and the Elks Club.
He also followed his father's footsteps and became a New Jersey State Detective, serving 46 years and rising to the rank of Chief. Just like his father, he also rented apartments, sold homes and businesses, and helped new immigrants to Hoboken secure insurance policies when some insurance firms were hesitant to serve people of other cultures. "That's what made Hoboken," R. John Muller once explained of immigrants. "I didn't speak Spanish, I didn't speak German, but we loved all our customers and they loved us because we were honest and treated people fairly. Ethnicity doesn't mean anything, it's who you are."
R. John Muller and Hetty taught this "golden rule" to their four children, Leonore, Laura, Roger Jr., and Erika. In 2000, Roger Jr. and Erika applied it as they took over the agency, positioning it for 21st Century success with new technologies and a staff of hand-picked insurance professionals to carry on the Muller legacy of providing the very best in customer service.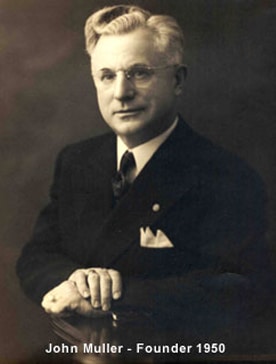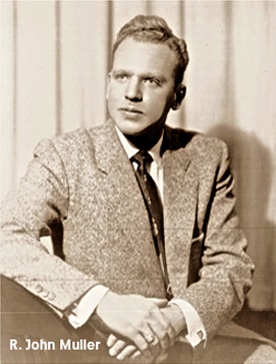 "Giving people the knowledge to choose the right type of protection for their homes, their cars and their family, that's what my father and grandfather did–and that's what Roger and I try to do," Erika explained. "I like to make everyone feel like we're their best friend. That doesn't happen with online insurance companies. Customers deal with a different person every time. Not here. At Muller Insurance, we have a personal relationship with our customers."
Roger Muller Jr. is equally committed to the agency's legacy of customer service and community involvement. Beside overseeing the agency's daily operations, he is focused on improving how Muller serves its clients large and small. A Certified Professional Insurance Agent with 36 years of experience in the industry, Roger has served as Vice President of the Hoboken Chamber of Commerce and currently sits on the Chamber's board. A Ramapo College alumnus, he is a member of the Hoboken Elks Club, Euclid Lodge Masons and the Hoboken Lions Club. For the past 25 years, Roger has worked closely with the Hoboken Rockets ice hockey team, serving as captain and general manager. In 1984 he was especially honored to serve a two-year term as President of the Hoboken Lions Club. "That was a really special night for me," he said. "Judge Charles DeFazio, who was a neighbor of ours on Washington Street and a good friend of my dad, sponsored me."
A certified a member of the Hoboken Community Emergency Response Team (CERT), Roger and the team are ready to respond to any type of local emergency like building collapses, flooding, cooling center support and crowd control during major public events.
"I'm proud to serve my community as a volunteer for CERT," he said. "It's not only my personal commitment to Hoboken, but as manager and agent for Muller Insurance, it helps me to better understand the needs of our community and how we, as insurance agents, can help the people of Hoboken live secure and happy lives."
In May 2012, a year before R. John Muller passed away, the entire Muller family was honored for years of dedication to the community when the City of Hoboken renamed the corner at Washington and 10th Streets as John Muller Way.
"That was a special day for us. And everyday I pass that sign, I'm reminded of the what my family built and the lessons that were passed down from my father and grandfather," Roger said. In March 2016, Muller Insurance was further honored to be recognized as the oldest continuously operating business in Hoboken. "That means a lot to everyone in the family and at our company. And although neither Erika nor I ever met my grandfather, we do our best every day to carry on the work he started over 120 years ago."
"We look forward to serving you."
Roger J Muller Jr. & Erika Muller
Co-Owners
A Century of Dedication & Service
Licensed in Over 30 States