News about Muller Insurance
What Grady-White Adds to My Life
Winter 2017 – Anchorline By Roger Muller, Jr.
Read the article in Anchorline, The Grady-White Owner's Newsletter.
Muller Insurance: The Oldest Business in Hoboken
Nov 21, 2017 – Hoboken Girl Profiles Muller Insurance
Read the article on HobokenGirl.com.
Roger Muller on WFMU
Nov 21, 2017 – Roger Muller (left) sits down with WFMU's John Trelease to discuss insurance, Hoboken and three generations of Mullers.
Listen to the interview from WFMU.
Hoboken Business Leaders Speak Out
Sept 26, 2017 – Hoboken Internet Radio speaks with Roger Muller about what he needs and wants from a new administration.
Listen to the Podcast on Hoboken Internet Radio.
They Have You Covered: Muller Insurance reaches a milestone
July 13, 2017 – Muller Insurance's work, history and impact on the community was profiled in the latest edition of 07030 Hoboken. The magazine interviewed current co-owner Roger Muller Jr. on how his insurance company has evolved since its inception over a century ago.
View the article from 07030 Hoboken.
Hero Lionfish Hunters of Panama
July 17, 2015 – The Visitor profiled Roger Muller Jr.'s visit to Panama to hunt for the dangerous yet tasty lionfish.
Read the article on The Visitor.
Muller Wins Chamber Award
Nov 17, 2013 – Muller Insurance won the Hoboken Chamber of Commerce's 2013 Uniquely Hoboken Award for its outstanding and ongoing client and community service. Co-Owners Roger Muller Jr. and sibling Erika Muller were on hand to accept the award at the Chamber's annual presentation.
Check out the full story in the Hudson Reporter.
Brothers & Sister, Inc. – Hoboken businesses keep it in the family
Dec 30, 2012 – Erika Muller and Roger Muller Jr were profiled in Hudson Reporter on the benefits of family and, in particular, brother-and-sister run businesses.
Read the article on Hudson Reporter.
Figuring Out Claims
Aug 31, 2011 – Muller Insurance comes to the rescue of hundreds of local residents hit by flooding.
View the article from the Jersey Journal.
Diving with Sharks
Nov 27, 2011 – Undercurrent dives into a story on Roger Muller Jr. taking daughters Kelsey and Taylor on a Shark-diving vacation near Mexico's Guadalupe Island.
Read about the trip on undercurrent.
All the Muller Way
May 17, 2011 – The City of Hoboken has named Tenth and Washington Streets "John Muller Way" in honor of the Muller Insurance founder. John Muller established his insurance agency in 1906, making it the longest continually operating business in Hoboken.
Check out the article on hoboken411.com.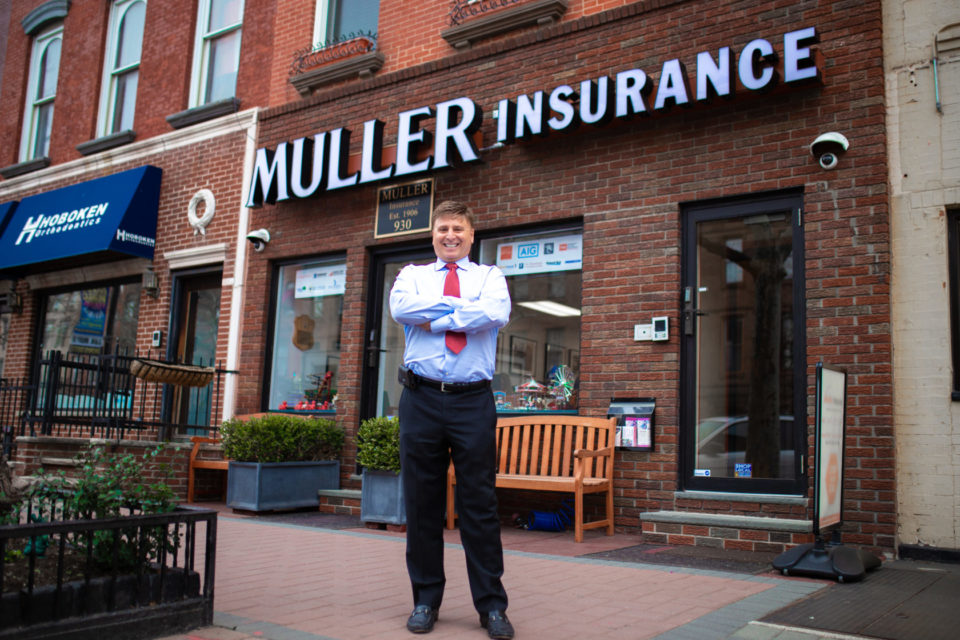 chichpeaJC interviews Roger Muller
June 11, 2018 – Lynn Hazan from chicpeaJC recently visited the Muller Insurance office in Hoboken for a chat with Roger Muller.
Check out the interview on chichpeaJC.